by Caroline Sullivan
Jan 17, 2015
Pictiúr: A Celebration of Contemporary Irish Children's Book Illustration
Pictiúr: A Celebration of Contemporary Irish Children's Book Illustration
Dún Laoghaire is an old seaside town with a dazzling new library. The dlr LexIcon is impressively spacious with spectacular sea views. But it wasn't the image of the sea that I had come to see; it was the children's illustrations on display as part of Pictiúr, an exhibition of contemporary Irish children's book illustrators.
Curated by the former Laureate na nÓg, Niamh Sharkey, Pictiúr consists of forty-two illustrations from twenty-one illustrators, all of whom are Irish - either by birth or by affiliation - and showcases the extraordinarily rich talent we're lucky to have right under our very noses.
'Oh Yes! They landed on the Moon.' by Niamh Sharkey. From: On the Road with Mavis and Marge (Walker Books, 2010) 
What struck me first about Pictiúr was the sheer diversity of the work - both thematically and stylistically. From Niamh Sharkey and Chris Haughton's bold, child-centred design ...
From: Oh No, George by Chris Haughton (Walker Books, 2012)
... to Paul Howard's arresting and beautiful image from William Blake's poem 'The Tyger', there is something for everyone, and every age.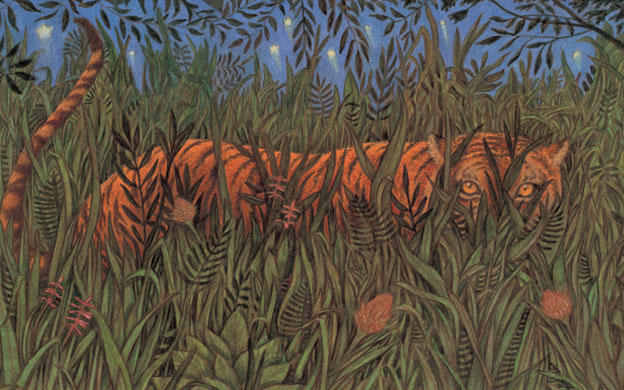 'Tyger! Tyger! burning bright' by Paul Howard. From: Classic Poetry: An Illustrated Collection edited by Michael Rosen (Walker Books, 1998)

There were some familiar images and characters on display, such as Anita Jeram's Big Nutbrown Hare and Little Nutbrown Hare from Guess How Much I Love You...
'

"This much" said Little Nutbrown Hare, stretching out his arms as wide as they could go', by Anita Jeram. From: Guess How Much I Love You by Sam McBratney (Walker Books, 1994)
... Oliver Jeffers' Floyd from the brilliant Stuck ... 
'An orang-utan to knock down the milkman...' by Oliver Jeffers. From: Stuck (HarperCollins Children's Books, 2011)

 
...and PJ Lynch's vividly portrayed Jonathan Toomey from The Christmas Miracle of Jonathan Toomey. 
'After supper, he sat in a straight-backed chair near the fireplace, smoking his pipe and staring into the flames.' by PJ Lynch. From: The Christmas Miracle of Jonathan Toomey by Susan Wojciechowski (Walker Books, 1995)
Then there were not-so-familiar (but equally fantastic) works from the likes of the gifted Alan Clarke, best known for his Ross O'Carroll-Kelly illustrations. His two featured images are indications of the depth and range of his versatility and talent - so different in style and theme from the infamous Ross, so different, too, from each other. 
The giraffe who lived in a shoe by Alan Clarke. From: Something Beginning with P: New Poems from Irish Poets edited by Seamus Cashman (The O'Brien Press, 2004)
There was also a welcome surprise in store when I discovered book illustrations by Andrew Whitson that I hadn't seen before. Somehow I hadn't yet had the pleasure of exploring the books from which his two Pictiúr illustrations originate: Cogito and Ó Chrann go Crann. They are gorgeous, and I was delighted to find one of the featured books, Cogito, was in stock in the children's library. The book is written in Irish, but you needn't be a fluent speaker to appreciate the mesmerising illustrations the book offers.
From: Cogito by Caitríona Nic Sheáin and illustrated by Andrew Whitson (An tSnáthaid Mhór, 2012)
And that is the point of Pictiúr - to show just how important illustration and illustrators are for encouraging the viewer to use a little imagination of their own to see what's going on, with or without the text. These are stories in their own right. 
Look at the illustration below by Tatyana Feeney, taken from her book about the familiar trauma of a small child's blanket going for a spin in the washing machine. The image from Small Bunny's Blue Blanket is like a short story without words. It manages to capture a whole range of childhood emotions through image alone. In Tatyana's own words 'I think the repetition of the washing machines captures the feel of how long the wait for Blue Blanket would be for a child. And the bunny's ears, although they are very simple, convey all of the bunny's anxiety, worry and eventually resignation just through their position.' 
'It actually took 107. And Small Bunny watched Blue Blanket for every single one.' by Tatyana Feeney. From: Small Bunny's Blue Blanket (Oxford University Press, 2012) 
Reading such short excerpts from the illustrators was a good source of insight into some of their reasons for choosing the pieces on display at Pictiúr. After viewing the illustrations yourself - whether for the first time or not - and forming your own understanding of the story, and possibly of the stories within the story, it's fascinating to hear the various thought processes that led to the images, and the feelings of the creators themselves.  The illustrators featured in Pictiúr are: Lily Bernard, Alan Clarke, Michael Emberley, Tatyana Feeney, Marie-Louise Fitzpatrick, Adrienne Geoghegan, Olivia Golden, Chris Haughton, Paul Howard, Oliver Jeffers, Anita Jeram, Chris Judge, PJ Lynch, Oisín McGann, Mary Murphy, Donough O'Malley, Niamh Sharkey, Steve Simpson, Kevin Waldron, Olwyn Whelan and Andrew Whitson.
After a 2-year tour of Europe and Ireland, Pictiúr comes to an end on Saturday, January 31. To mark this farewell, Children's Books Ireland is holding a conference in the dlr LexIcon next Saturday, January 24, called 'A Day in the Life.' Guests include Pictiúr curator Niamh Sharkey as well as the current Laureate na nÓg Eoin Colfer. Details of this and how you can buy tickets can be found here.